An outdoor lounge is a perfect spot to entertain guests. Your kids will surely have a lot of fun having friends over. But because not everyone can afford a full-scale, permanent lounge, having an alternative is always wise. Instead of placing bulky outdoor lounge chairs in your backyard, why not try this wonderful gem of an idea?
Get your inflatable pool out of storage, pump air into it, throw in cozy blankets, fluff some pillows and voila! You have an outdoor lounge you can use for movie nights, backyard picnics, and star-gazing sessions with the family.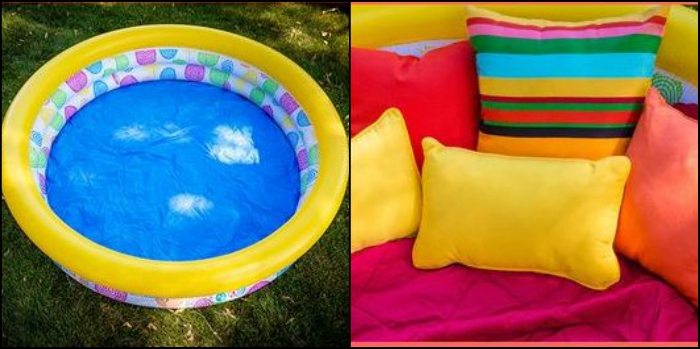 This DIY project will cost you nothing, assuming you already own an inflatable pool. It doesn't even take a lot of effort. You'll have an outdoor lounge that's ready to use in no time.
You can experiment with bold colors for a daytime picnic or go fancy for a night-time date. Again, the only limit is your imagination.
You'll need these materials:
Inflatable pool
Air pump
Blankets
Pillows
Special thanks to Area Rug Home Decor for this wonderful idea!
Aside from an outdoor lounge, there are other things you can do with an inflatable kiddie pool. Check these out…
'Click on any image to start lightbox display. Use your Esc key to close the lightbox. '
Ball Pit
Party Beverage Cooler
Toddler's Playpen
Sandbox
Pond
Garden
Chicken Brooder
Dog Bath